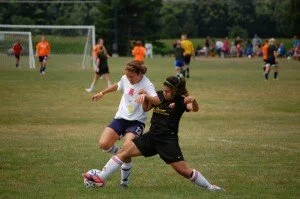 At around the age of 13, 14, and sometime 15 years old, you should have a good idea of how motivated and interested your child is about soccer.
This is the time to evaluate how much money and time you plan on investing on your child's career. Is your child one of the best players in the area? In the top 5 or 10, then it's time for Premier Soccer or higher. If your child is one of the best in the state, then it's time for the Olympic Development Program or possibly the US Soccer Development Academy. This is where the coaching will make the most impact. You may be underqualified to continue coaching your child after they reach this level, but you can still continue working on things at home to work on technique.
It is imperative that your child receives good coaching. By this time he/she knows how to dribble, pass, receive, 1v1 moves, heading, etc., but playing at a faster speed, in different formations, in critical moments, will help sharpen the skills and will need insight from a good coach.
This age, around 14-16, is also a good time to start specializing, but only if you feel you have the ability to play at a higher level after you are 18 years old. If you are still doing it for fun, or can play at a high level, but won't be able to play after high school, there is no need to specialize. If you do decide to specialize, you should seek the assistance of a professional personal trainer to strengthen the muscles that are not used in soccer to avoid injury.
During your venture, you will meet numerous coaches, clubs, and others involved with soccer who claim to have found the "secret" to coaching or development. Clubs and coaches will tell you that Club A is the best at training because they have X amount of players on certain team. What they don't tell you is that those players were already good before they joined their club. Many coaches and clubs will also point to the fact that they have won "numerous championships and trophies". Again, what they don't tell you is that they are doing it with all the players they picked up during tryouts in the summer. So what happens in a playground or at recess time in school, all of the good players go on one team and beat all of the inferior players. This is one of the biggest problems in US soccer. We have a million clubs marketing their players as the best and won all these tournaments, but then those same players can't make any professional teams, while their European counterparts are getting professional contracts.
Winning at the amateur level is overrated and overemphasized by clubs who desperately need your money to continue paying the coaches who are qualified, but overwhelmed with 5 or 6 teams so they can be "professional coaches". They coach so many teams and are stretched to their limit that they can't focus enough on one team to make players better.
Choosing a good club or coach is difficult because clubs will often switch coaches after a few years. So the coach you worked with last year, may not be there next year. What you want in a coach is a positive role model who understands their role. You want a coach who will allow the player to make mistakes, and then "discuss" (notice I diddn't write YELL) with the player how they can improve and avoid the same mistake. You want a coach that will motivate a player to improve. Winning tournaments is not going to impress college coaches or professional clubs, they want to see how the athlete performs on the field under pressure. You will not be playing with that same team in college or as a pro, so your wins don't matter. What the next level wants to know is if you can take your skills and perform well at the next level or in their system.
If you have a  younger player, under 12, read this post "How to Develop a Young Soccer Player".