Podcast: Play in new window | Download | Embed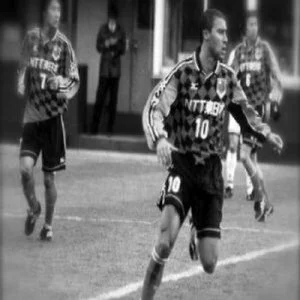 Mark Burke has been described as "sure of touch, calm of mind, he would lope around in seemingly lackadaisical fashion before offering a cute little pass here or a deft touch there. A man with an eye for ball retention." He enjoyed a promising career in England with Aston Villa, Middlesbrough and Wolves. He soon left Port Vale to join Fortuna Sittard and apply his trade in Holland as a 26-year-old in 1995. It was in the Netherlands that Mark began to understand and view the soccer player development process. We were lucky enough to get him on the podcast to discuss player development with us and talk a little about his book, A Different Kind Of Soccer.
Mark knows what it takes to make it in Europe and he shared some of his insights. Additionally Mark shares his visit to Holland and what he learned about player development in the Netherlands. Why the Dutch's attention to detail and belief in their own system is what separates them from the rest. Why the Dutch have decided to stick to their philosophy and continue developing players. 


Mark was a great guest on the show and we can't thank him enough for sharing his blueprint on developing players. Get his book to ensure that you are optimizing the development of any player you coach or parent. The book will teach you what the game is about, the stages of learning, and how to improve your technique and mental game. There is also insight into the training and development approach. This book is a great tool for the Player, the Coach, the Parent, and the Club Administrator.
And if you decide to purchase the book, make sure you use our link (or click on the banner above) and Mark has graciously agreed to donate some of the proceeds to the YSE Podcast. Thank you in advance!
"In England it's a totally different thinking. If you don't follow that run people will wonder what you're playing at. The Dutch are thinkers. They think more about the game than we do. We have this idea of the Dutch being very liberal but that's not really true – it's an extremely regimented and organised culture and the football is the same. It's organised to the smallest detail."
"I had a lot of ideas about football before I went there but it was in Holland that I learnt how to organise them. In that first year I found out so much. Pim Verbeek really took me under his wing. We used to drive all over Holland just watching games to introduce me to the different styles and how teams played. It was a real football education".
http://www1.skysports.com/football/news/11096/8307015/brits-abroad-mark-burke
If you have a question for Mark or you want to let him know you are a fan of his book or interview, let him know here.
Follow Mark on Twitter https://twitter.com/iammarkburke
on facebook https://www.facebook.com/adifferentkindofsoccer