Podcast: Play in new window | Download | Embed
Diego Gomez stops by to discuss his experience playing in the Real Madrid Youth System and then transferring to the renowned La Masia with Barcelona's Youth Academy. This experience led him to create Barcelona Soccer Excellence with a friend, Toni Dovale.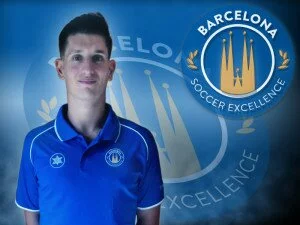 Diego takes us through his journey as he started out at a very small club in his hometown in Madrid, Spain. He did well as a 9 year old and caught the eye of Real Madrid scouts at a tryout. Diego moved to Real Madrid and stayed there for 3 years. At the tender age of 12, Diego was spotted by Barcelona scouts at a tournament. He made the decision with his family to move to Barcelona after he saw the vision and philosophy of La Masia.
Diego recounts what life was like training at La Masia and even living there as a teenager. He recounts learning from such coaches as Pep Guardiola, Luis Enrique, Jordi Roura, and many other Spanish Coaches. Diego spent 8 years playing for Barcelona's La Masia and even had a few caps for the Spanish Nationnal Youth team. Unfortunately Diego suffered a few knee injuries that hampered his playing career. He played professionally in Hong Kong, but had to retire at an early age due to knee injuries.
Diego's Development:
Environment: He grew up in Spain, his father played professionally, and his friends played in school.
Playing with Family: Diego started playing early with his father "since I was very young, about 3 years old".
Youth Academies: He played for some of the world's finest youth academies and coaches.
Today Diego and his partner, Toni, are giving back to Soccer – Futbol with their services at Barcelona Soccer Excellence. BSE offers a line of EUFA Pro Coaches to help with Camps, Clinics, and a development program. They also offer a soccer residency program at La Masia, Soccer Tours, a chance to attend and play at the MIC (Mediterranean International Cup) tournament, and a program to implement the Barcelona philosophy in your own club! You can reach out to Diego in several different ways below.
Get a Free Coaches Clinic when you visit the website!
Links
https://www.barcelonasoccer.club/
Diego's website and where you can learn all about the services that he and his partner provide through Barcelona Soccer Excellence.
Email: [email protected]
Diego on Twitter: https://twitter.com/dgh12
BSE on Twitter https://twitter.com/BSE_soccer
Diego on LinkedIn https://www.linkedin.com/in/diego-g%C3%B3mez-heredia-a9283473
Thank you again Diego for offering your time and insight to the podcast and our community!