I've compiled some of the resources that can be purchased on this page. As the website audience and visitors grow, I will continue to add additional resources. Some of these resources are from friends that have been guests on the podcast, such as Mark Burke's book "A Different Kind of Soccer" and Mike Jacob's website www.littleleagueparentsgonewild.com. Some of the resources are affiliate links and YSE will receive a percentage of the proceeds if you decide to purchase through this link. If you decide to purchase from these links, thank you in advance.
Books


A Different Kind of Soccer by Mark Burke, Former Aston Villa and English Premier player. Mark was on the 10th Episode of the Podcast. He played professionally throughout Europe. In this book he tells you how you can train your son/daughter how to train. I love his approach as he simplifies the game for the parent and new coach. This is excellent for parents who have young kids that are starting to play. If you buy this book, send Mark an email and ask him any questions. Good luck!
You've heard me talk about FUNINO in the past. These books were written by Horst Wein, the man who invented FUNINO. Read these books if you want to learn more about game intelligence.
Videos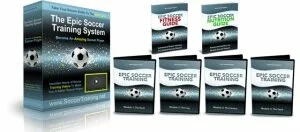 EPIC Soccer Training with Matt Smith
Matt is a former professional soccer player in the MLS. In the EPIC soccer Training Matt breaks it down for you as much as you can break it down. Training and development for motivated kids. This is also good for soccer parents who want to help their son/daughter improve. It's like having a personal trainer at home. 6 videos walk you through the player development process and how to maximize soccer development!
Websites
http://www.littleleagueparentsgonewild.com/ – To better assist parents to be better spectators and coaches of their children's athletic interests, LITTLE LEAGUE PARENT GONE WILD was born. Mike Jacobs was also a guest on Episode 16.
www.joyofthepeople.org
www.thebeautifulgame.ie