Welcome to Youth Soccer Evolution!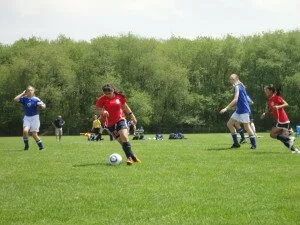 One of the major problems with soccer player development in the US is that there are too many clubs that emphasize a "Win First" mentality and there is little that anyone can do about it. I am not blaming the clubs since many of them would cease to exist if they couldn't recruit players, and the only way to recruit is by winning! Since winning is so effectively used for recruiting, it's difficult to blame these clubs. Many parents don't understand soccer or player development and they rely on the easy metric of win/loss records.
At Youth Soccer Evolution, we want to engage, educate, and empower parents, players, coaches, and administrators who are trying to do the right thing and focus on Player Development, instead of win/loss records. It won't be an easy task, but it's something that can be done! But we need to unite and build a strong community that creates a large movement.
We will update the site with questions and topics that are relevant to youth soccer player development.
My name is Ernesto Diaz. I've always loved sports. I fell in love with soccer around my Junior year in High School, but I never played on a HS team or Club. After graduating High School, I was lucky to have a friend that sent me to watch the 98 World Cup. I fell in love with the game is an understatement! I could not stop playing or watching. I played so much that by 2003, I was offered a scholarship to play. By that time I had graduated college and had a family. However I did start coaching my nephew and other young relatives.
In 2005 I was asked if I wanted to help coach at a club. I jumped on the opportunity and never looked back. I took coaching the same way I did playing, I never wanted to stop learning. After coaching for numerous years at the club, recreational, and High School level, I realized that I had a unique approach to player development. That approach was created by my psychology background. I also went back to school and completed a Master's Degree in Training and Development. Additionally I was learning so much about children and their development from my day job.
After several discussions with my mentor, I decided to give back all of the knowledge that I have gained and continue to gather. It's the only way I can thank everyone that has helped me become the coach I am today. It's my responsibility and obligation to give back since I've been so fortunate to have so many great coaches help me. So this is my website, where parents, players, and young coaches can gather information on player development. My goal is to inspire other parents, coaches, and players to take a different approach to youth soccer development, the one you believe in!
I will use my experience in playing, education, coaching, as well as training other coaches to do the same. I've met so many smart and interesting coaches over the years and I've gained so much insight from playing, talking, and coaching with them. Thank you to all of my soccer friends who have continued to push me to learn more about the game I love.
I hope you enjoy the posts and would love your feedback or additional questions or topics to discuss. [contact-form][contact-field label='Name' type='name' required='1'/][contact-field label='Email' type='email' required='1'/][contact-field label='Website' type='url'/][contact-field label='Comment' type='textarea' required='1'/][/contact-form]
www.thesolemaker.com