Podcast: Play in new window | Download | Embed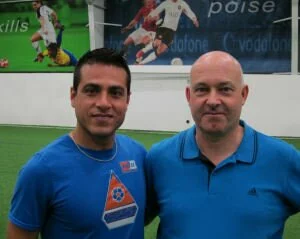 Dermot Dalton, the manager for The Beautiful Game, joins YSE Podcast to share some of his research on Jimmy Hogan. Jimmy Hogan was a critical component in the spread of possession based football throughout Europe, today known as Total Football and Tiki-Taka, among other names. His innovative approach and possession based philosophy impacted many managers who went on to have an impact on several storied teams in the footballing world.
Jimmy Hogan is credited as the visionary that saw possession in football as not only a way to defend, but also the best way to score. While the majority of teams, coaches, and players preferred to play direct, it was Jimmy that went against the grain and touted possession as the way to win.
Jimmy Hogan's impact on the footballing world started with young coaches that worked under him in the early 1900's and has reached all the way to the Netherland's Total Football and Barcelona's tiki-taka today.
Below we list some of the few coaches and teams that can be linked back to Jimmy Hogan.
Coaches such as Hugo Meisl, the Austrian coach who went on to coach the storied "Wunderteam"  http://www.fifa.com/classicfootball/coaches/coach=61643/
The Wunderteam, sometimes known as the "danubian wirl"  http://www.theguardian.com/football/blog/2014/apr/22/world-cup-stunning-moments-austria-wunderteam
The German coach, Helmut Shun  http://www.heraldscotland.com/sport/spl/aberdeen/helmut-schoen-1.465124
The "Magic Magiars" team  http://www.fifa.com/classicfootball/coaches/coach=61688/
Coach Bela Guttman http://en.wikipedia.org/wiki/B%C3%A9la_Guttmann
Dermot also takes the time to talk to us about Horst Wein and his philosophies. You can find out more about Horst Wein, Dermot Dalton, and Funino by going to thebeautifulgame.ie
You can also view the post from April that I wrote about Horst Wein by clicking here. See the post on Horst Wein, click here.
If you would like to purchase one of the many books by Horst Wein, click here.