Podcast: Play in new window | Download | Embed
Papi Futbol in Argentina with Martin Blanc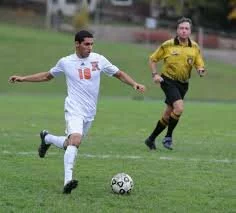 For Episode 13 of the YSE Podcast we had the privilege of speaking to Martin Blanc.
Martin is a recent graduate of the prestigious Kalamazoo College, a private school located in Kalamazoo, Michigan, where he played four years of collegiate soccer. Martin brings us a unique point of view of American Soccer training and development. Martin was born in Buenos Aires, Argentina and moved to the United States at the age of 13 years old. He credits much of his development to the environment where he grew up, and states that his unique style of play comes from the streets. A former coach of Martin, Mr. Dustin Snyder, once described Martin as "a unique player with the Latin flair". He is a pleasure to play with, against, and watch play.
Martin offers us so many incredible stories about his upbringing in Buenos Aires, Argentina. He describes the environment and recalls being a kid in his backyard, trying to emulate the greats from his hometown such as Pablo Aimar and Javier Saviola. According to Martin, there was not a whole lot of coaching going on, but there was some from his father and some relatives.
He credits his technical ability to playing Papi Futbol in Argentina, on the streets of Buenos Aires. Papi Futbol is a 5 a-side game played by all youth in Argentina. He recalls playing soccer with a flattened juice box because balls were not allowed during recess. He also spent time juggling an empty water bottle with friends. He described how the political unrest in Buenos Aires, which caused several strikes by teachers at the school, sent him to play on the streets. School would be canceled each time there was a strike, instead of wasting the day, Martin and his friends took advantage of the day off from school and would go rent a field to play the entire day.
Martin describes his transition from Papi futbol, which is 5-a-side to full 11 v 11 when he was 14 years old in Ann Arbor, Michigan. He also gives us his advice on why players should prepare themselves physically when they start getting older and playing at higher levels.
Martin also credits watching soccer on television with his father and even today as a tool to continue learning. He explains the difference between deliberate practice and playing for the love of the game. If you play for the love of the game, deliberate practice will be a game once you get older.
During the podcast, Martin will also share some of the issues with making into a professional youth academy in countries like Argentina. He recalls a specific, but unfortunate, incident during his tryout at 12 years old with Argentinos Juniors. Although Martin made the squad there were a few issues with what he was facing.
Martin's #1 most important advice that he gives players, coaches, and parents today is to let the kids have fun. Once the child is in love with the game, they will find the desire within to get better. The child will play soccer for fun and improve their skills without realizing that. This is what Ted Kroeten refers to in his interview, the intrinsic learning.
Martin offered his email for anyone that wants to reach out to him, to discuss futbol, papi futbol, or any questions about Argentinian soccer. Martin can be reached at 
If you like this story and podcast, please consider sharing it with friends and soccer fans on twitter or facebook!