Podcast: Play in new window | Download | Embed
Creating the pathway to professional soccer with Mike Jacobs. What an honor to have Mike Jacobs join our Podcast. We are grateful for his time and appreciate Mike coming on the show and sharing his insight about player development, the partnership between MLS and USL, the #pathtopro initiative, and the goals for the USL academies. One exciting factor is the pathway to professional soccer opportunities in the next few years.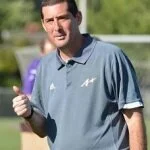 Mike jacobs is the current president of the NSCAA and the USL vice president of developmental properties. He is also an author and at one time was the youngest coaches in Division I soccer history. Mike has given so much of his time to soccer development in US, he is a true pioneer. Mike continues to blaze trails and improve the development of players and the system in the US and this time developing a true pathway to professional soccer. It's clear from speaking with Mike that he has a true passion for the sport and the development of players, coaches, and organizations.

We were lucky to get Mike on the show as he was busy with USL and getting prepared to take on the presidency of the NSCAA. We did discussed a little about the 2015 convention, which took place in Philadelphia. Make sure to follow the link and visit nscaa.com for information on the 2016 Convention. You can also find a ton of resources on the website. It's available every year, and it appears that it just keeps getting better and better. I actually met our first guest ever on the show, Ted Kroeten, through the NSCAA. So if you don't know what it is yet, definitely go to the website and check out all of their resources to improve your coaching and understanding of the game.
Other Key Points We Learned 
Starting kids too early, with regiment sessions can have a negative impact on kids. They may end up losing level of enthusiasm.
Mike feels that kids should be enjoying themselves when they are playing at the very young ages such as 5-7. He discussed how Landon Donavon grew up playing AYSO and his fond memories about those years. We want the kids to come back the next day and next year. That's what coaches of young players should focus on, the love of the game.
To help young children love the game of soccer, Mike felt that you should create a setting for them to love the game. Get as many 1 to 1 ball to kid ratio as possible. Mike felt that his parents fostered and encouraged him as a child and he hopes parents will do that with their own kids. Don't push them too early into agility and speed training. Get them to love the game first. He brought up a great point about kids that love the game more at 9 will be better when they are 15. The kids that are being pushed too early will burn out. So be cautious and don't start pushing kids into something they don't enjoy. Let them fall in love and they will want to play and improve on their own.
Exciting time for Soccer in America
Mike also discussed how exciting it is to be involved with Soccer at the moment. The professional level continues to gain strength, there is more growth than ever. USL's affiliation with MLS has given rise to "farm systems" (like in baseball) and the growth of a true pathway to professional soccer. Galaxy started their own USL Pro team with the Galaxy Sol. Several teams have followed or affiliated with other USL Pro teams. The "pipeline" has created a true pathway to professional soccer in the US. It also gives players the opportunity to play with the 1st team in the MLS. The "pathway" is not complete yet, but it's another step in that direction. Once the academies are formed, it will give more players an opportunity to develop and create a true player development pyramid.
LINKS
southampton video discussed during the show
http://www.uslsoccer.com/
NSCAA – resource for coaches and parents of players
http://www.littleleagueparentsgonewild.com this is Mike's new website, check it out and let him know what you think.
Follow Mike on Twitter
@jacobs_usl #pathtopro
If you have questions, comments, please share with us at [email protected]
you can also like our Facebook group at the top of the page.